Thunderstorms ahead – sailing for a greater understanding
We are now five days further in the race and Rich has just passed the island of Madeira. With the Great American IV he has so far covered 234 nautical miles or 433 kilometres. He has already faced quite some challenges and there is no doubt there are more ahead. The skippers can look forward to faster speeds in the Southern Ocean, even though incredible speeds have been achieved already in the trade winds – a clear acceleration – since passing Madeira.
To be able to continue sailing and stay alert, Rich allows himself multiple naps through the night and has now reset his timer to a slightly longer period of 30 minutes. Imagine, nearly six hours of 30 minute naps! Yesterday Rich set the biggest sail the Great American IV has (370 square metres), as the wind direction had shifted behind the boat.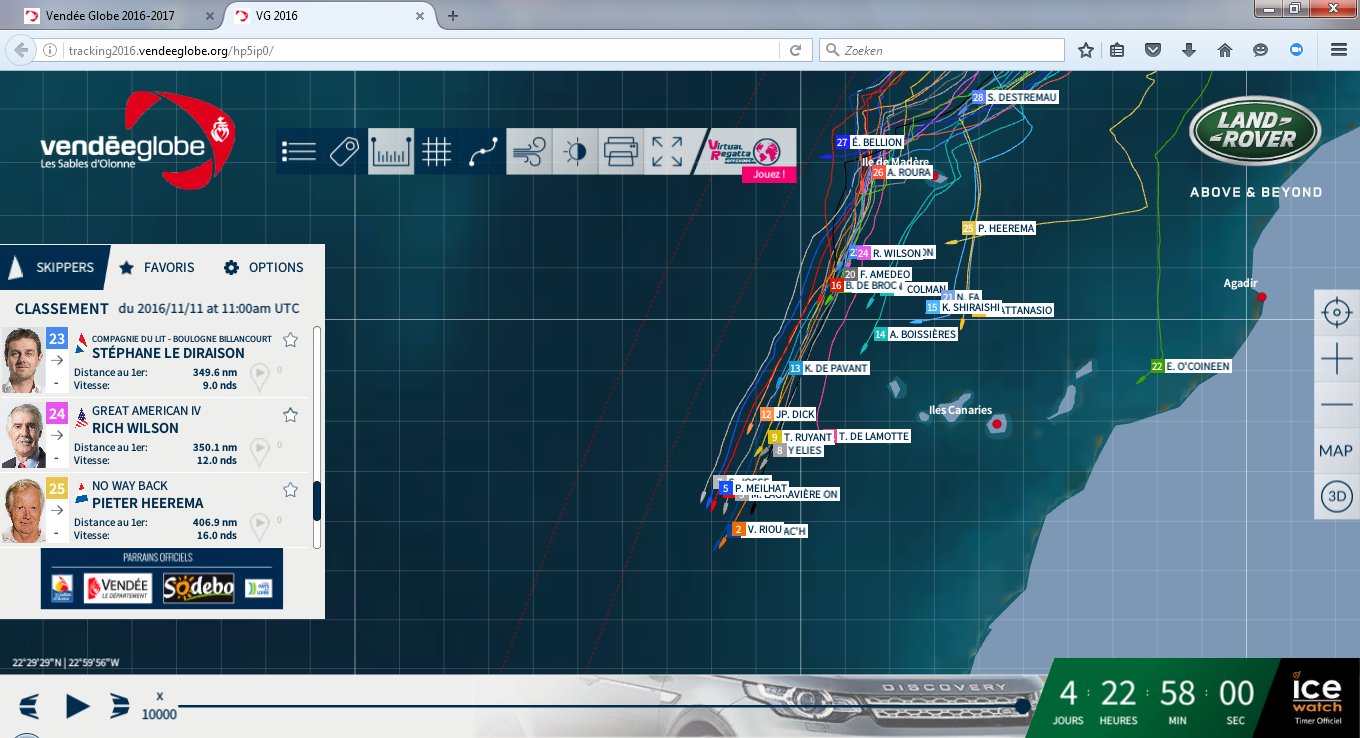 Currently the Great American IV is in 24th place (with 30 contestants in the race). In general, the skippers are divided into three groups. The race is led by 'the magnificent seven'. Behind this group, more than a hundred miles back, there is another tightly packed group of skippers, which is in a different weather situation, as the trade winds are favouring the leaders. The third group, which includes Rich Wilson, is still struggling in lighter winds between Madeira and the Canaries. Then there are a few independent thinkers who have chosen to go their own way.
Providing a spark
All these adventures and more are being shared via sitesALIVE!. This is what Rich Wilson himself says about the sitesALIVE! project on the Vendée Globe website:
"First, we have our Teacher's Guide (English, French, Simplified Mandarin, Traditional Mandarin). Written by teachers, this includes 15 weeks of classroom activities, plus semester long team projects, plus family activities for the home. Every day from sea, I send an audio report, ship's log data, skipper's journal, plus biometric data (sleep, asthma). Each week I'll answer about 10 student questions, plus write a formal essay on the topic in the Teacher's Guide for that week. Also, of course, we'll have photos and videos from the boat."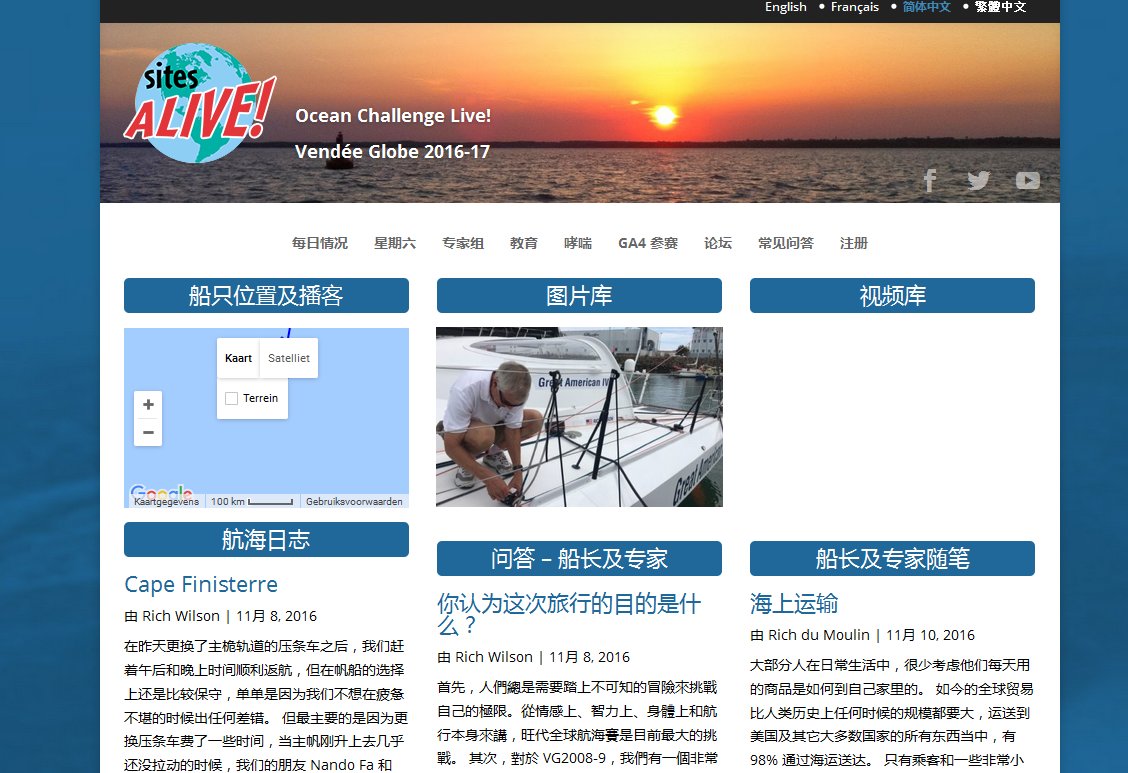 "We have a very interesting team of experts who will participate also. We have doctors (for asthma and emergencies), ship captains (including Capt. Yann Cariou of L'Hermione), a best-selling author, a maritime art curator, a fisheries expert, a climate change expert, a marine pollution expert, an Everest veteran, and one special Chinese guest we cannot announce yet, who is very exciting. These are all highly accomplished professionals, in a wide variety of careers, who will write for the classroom activities, and answer students' questions. Who can ever tell what will trigger a young student's imagination? So if we show them many options, perhaps one will provide that spark."
Moving forward hand-in-hand
During the preparations for the Vendée Globe 2016 event, some specific needs emerged regarding the connection with sitesALIVE!. Needs that have been met with the support of Powerling. First of all, the website needed to be translated into French, Simplified Chinese and Traditional Chinese. In addition, technical solutions have been found to enable instant website updates. When Rich puts an update on the website, Powerling immediately receives the converted file that is ready for translation. Once translated, it can be easily uploaded to ensure the update in French or Chinese goes live as soon as possible.
not just an afterthought

Translating these and other language combinations is not just an afterthought. It's a process of working with our clients' marketing teams to promote ideas and provide cultural nuances without undermining the strength of the original message. Moreover, it's also about having greater understanding available in-house.
Rewarding life experiences
The cultural immersion is not just a key factor for Powerling, but also for Rich. Powerling and Rich know that you don't understand something until you have truly experienced it. Powerling requires staff to be multicultural and their translators need to have experience living abroad. Rich, in his years of sailing, has gained a deep respect for the ocean, for the risks and rewards it presents. Being exposed to difficult, yet rewarding life experiences creates the vehicle for understanding.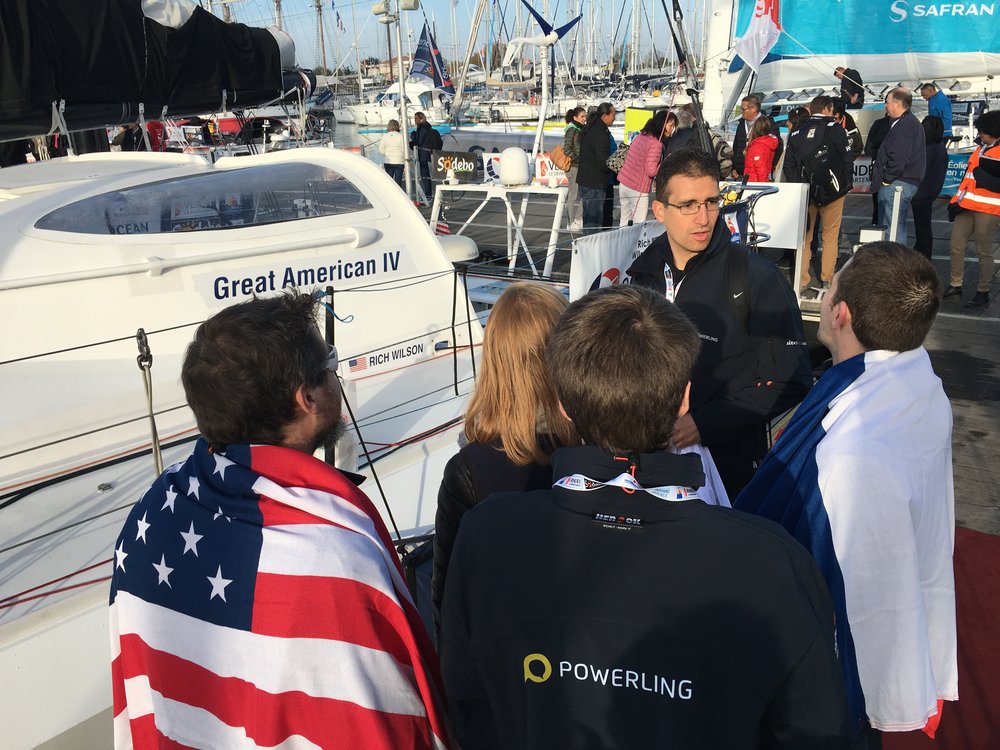 Thunderstorms are ahead for the skippers and this is likely to affect the leaders of the race today, the 11th of November. This means that winds will fluctuate in strength, which could continue until they reach Cape Verde. It will be especially challenging for those who have not yet recovered from the first three days of hard work.


Stay up-to-date for more information about the adventure of Rich Wilson, the Vendée Globe and Powerling via our Blog, Facebook, Twitter or LinkedIn page.